An Out of This World Holistic Dining Experience
By Allison Tardif
July 13, 2020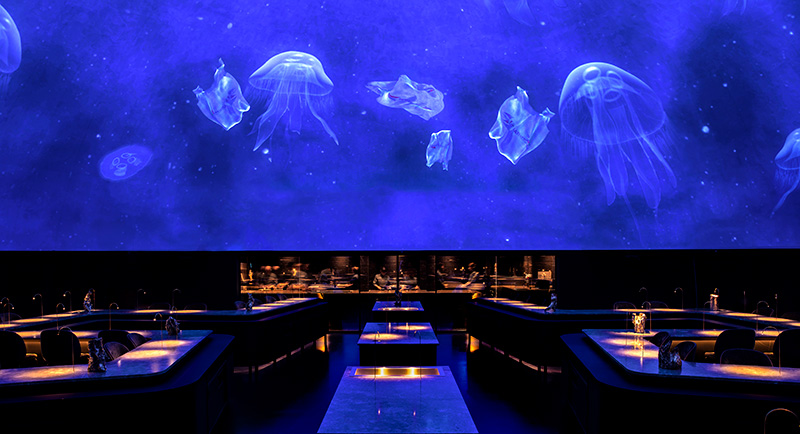 The Alchemist Restaurant in Copenhagen
AVIXA's AV Experience Awards category for Best Immersive Experience recognizes illusionary or simulated environments that envelop individuals into a multisensory experience utilizing content, space, and technology. The 2020 winner, the Alchemist restaurant in Copenhagen, is a holistic multilayered dining experience that utilizes AV technology along with innovative cuisine, high-quality ingredients, and skillful food preparation to extend the dining experience beyond the plate. It is project mastermind head chef Rasmus Munk's intention for diners to transcend time and space.
The restaurant encompasses three floors and guests are served 50 courses with accompanying drinks during a three to five-hour session where they move through different spaces, each with spectacular tech to go along with the inventive venue of dishes like aerated foie gras or lamb's brain with cherries. Inside the restaurant, the most dramatic design element is an atmospheric dome filled with projection.
Ten Epson LCD projectors, along with immersive audio, were installed to create a dome of content to immerse the diner in a virtual world. The projection content is managed by Christie servers and fed through Extron boxes. Diners are treated to constantly changing content, developed along with the dishes served, such as floating jellyfish and the Northern Lights. Diners listen to 10 playlists as they move through different zones that fit the visual content.
The restaurant AV was integrated and installed by Denmark-based AV solutions provider Audio-Visuelt Centrum (AVC). AVC's Christian Dannevang began working on the project with Munk almost two years prior to opening in 2019. The plans were constantly updated during that planning and construction period as new tools and techniques became available. One of the more challenging aspects of the project was determining where each of the projectors should be placed to create the desire effect – should it be inside the dome, or in the floor, and so on. They also spent a lot of time testing and trying different materials for the dome surface before landing on the painted black metal surface with added acoustical absorption.
Munk was never willing to compromise on details and quality of work and the AVC team rose to the challenge. According to Munk, "AVC have provided and installed the hardware that has made it possible for our creative team to succeed in creating a parallel reality inside the restaurant where our guests feel that they are transported to another world for a few hours."
The team members at AVC do not consider the project done either as it keeps evolving and incorporating new features. They used the time period during the COVID-19 shutdown to upgrade the audio in the dome to make it even more immersive.
Alchemist is a one-of-a-kind experience not attempted in a restaurant space before and has received only 5- and 6-star reviews from critics, and two Michelin stars (quite an accomplishment for a restaurant only open 6 months). Before the shelter-at-home orders, Alchemist sold out nine months of reservations in 11 minutes and had 13,000 parties on its waiting list.
Alchemist is a great example of the creativity that's possible in the world of professional AV. AVC project manager Frederik Beg Rodbro said "This is why people never leave the AV business – it is opportunities like this. It is an amazing journey to do. And it makes you proud to be part of."