Collaborating on a Large Scale at Harvard Business School
By Krystle Murphy
July 14, 2020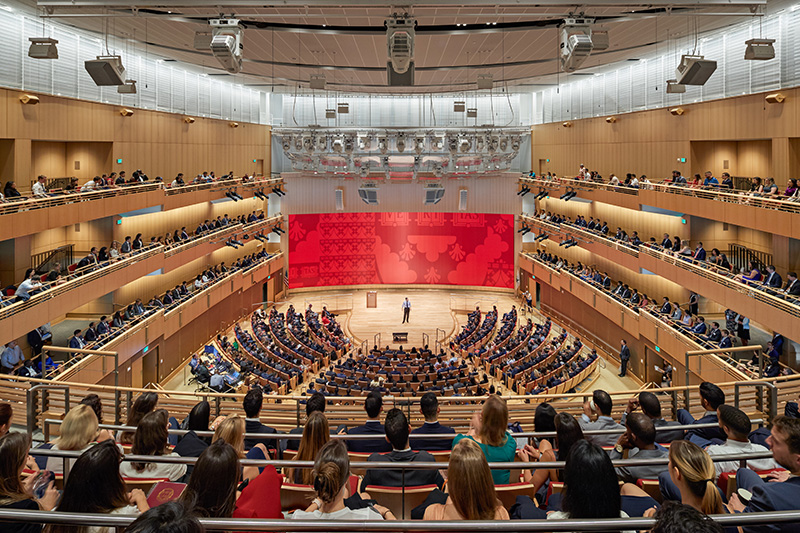 Harvard Business School's Klarman Hall
The AVIXA AV Experience Awards program celebrates applications of AV that help enhance interactivity in its Best Collaborative Experience award. The 2020 winner, Harvard Business School's Klarman Hall, is a large forum designed to connect voices to discuss critical issues. The building opened in 2018 and hosts about 700 events a year in which tens of thousands of people participate.
Walsh Brothers construction broke ground in 2016 on the 120,000-square-foot building designed by William Rawn Associates. The new Klarman Hall would replace Burden Hall, which was home to the business school since 1971.
Harvard's case method approach required a different design from traditional lecture-style classrooms. The space needed to be a forum where students could easily exchange perspectives, counter and defend points, and build on each other's ideas. Unlike most auditoriums that prioritize one-direction communication from the platform out into an audience, this room had to support interaction on a large scale – a 1,000-seat room.
"How do we create that instantaneous dialogue? If there is a pause while you're waiting to hand out a microphone, you're dead," said Craig Janssen, Managing Director, Idibri, the AV designer for the project. "We wanted it to operate far more like improvisational comedy, where the audience is actually directing the content matter."
The AV system designed by Idibri and installed by AVI-SPL, allows students to see each other and speak to each other from their seats. The sound systems allow for presentations, while a separate voice lift audio system supports the students' interaction in the hall. The voice lift system includes ultra-sensitive microphones and more than 100 speakers to create a uniform sound no matter where students are seated.
The 1,250-square-foot multimedia display comprising 32 million pixels is curved to optimize viewing angles. It supports concurrent media presentations, empowering a variety of ideas to be expressed at once. One of the essential components of the display design was that it had to be quiet — not only for the overall experience within the room, but so that it wasn't amplified by the voice lift system.
An incredible amount of bandwidth is required to support real-time interaction among 1,000 people. The wireless network includes 80 Ethernet access points, 32 antennas in the auditorium ceiling, and multigigabit Ethernet uplinks throughout the building.
"One of the largest challenges was the incredible coordination of all the technology and moving parts into the ceiling, which includes three different speaker systems, two of which raise and lower; moving microphones; moving acoustic cloud reflectors, Wi-Fi access; and moving light trusses," said Brian Elwell, Vice President at Idibri.
"When you bring together people with talent, vision, and ambition in a space designed specifically to facilitate connections, conversation, and debate, the potential for transformative ideas and action is limitless," said Seth Klarman, CEO of The Baupost Group. The building was made possible by a generous donation from Seth and Beth Klarman.