Creating a Magnetic In-Person Experience
By Krystle Murphy
June 10, 2020
There are many things you can do from the comfort of your home. So, what makes you jump to your feet and head out the door? A captivating experience that's only possible to consume fully in person – where the sights and sounds surround you.
The AVIXA AV Experience Awards recognize when AV is used strategically to motivate potential attendees to get out into the real world to experience something they can't see or do anywhere else in its Best In-Person Experience award. The three finalists from around the world show how AV can draw a crowd.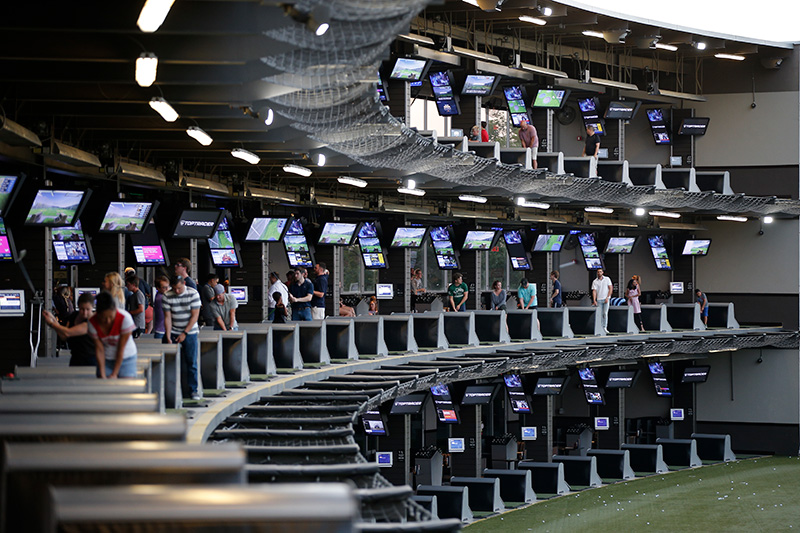 A view of Topgolf's array of entertainment bays
To deliver guests the ultimate sports and entertainment experience across more than 50 of Topgolf's venues, the company sought to enhance its technology platform by transitioning from consumer televisions to durable, customizable, commercial displays. Systems integrator Diem Digital deployed more than 10,000 LG webOS commercial displays across their venues that are positioned vertically and broadcast content in three sections – from sports and other TV programs, to marketing messages, to Toptracer, which tracks the flight path of every golf shot. Topgolf provides a unique experience only achievable in person.
In Nanjing, China, new media studio Ouchhh collaborated with NASA astrophysicist Dawn Gelino to create a permanent 15-ton, 360 LED installation to allow the public to observe the exoplanets (planets that orbit around other stars). The DATA GATE: NASA AI Astronomical Sculpture utilizes machine learning in the context of space discovery and astronomical research through NASA's Kepler Data. The resulting work invites visitors to plunge into the fascinating world of space discovery through the immersive data sculpture.
New media studio Ouchhh wowed again in Paris where it exhibited the world's largest AI exhibition at the Atelier des Lumières (The Workshop of Lights). Poetic_Ai uses machine learning and AI algorithms to create immersive art illuminated by 50K pixels and 136 projectors. Ouchhh was inspired by the idea of a poetic breakdown of AI and the theories and text that it may create after being trained on a large quantity of articles and books that approximately would add up to 20 million sentences – ideas about light, physics, space, and time by famous scientists who changed the destiny of the world.
There are certain things worth seeing in person – a picture or video simply won't suffice. Think about any time you've told a friend about a fantastic place you've visited. You usually conclude with "you have to go!"
The winners of the AV Experience Awards will join a virtual panel discussion during InfoComm 2020 Connected on Tues., June 16, at 10 a.m. EDT to talk about innovative, experience-focused AV design.